Why Direct Mail Marketing Should Be Part of Your Bank's 2023 Marketing Strategy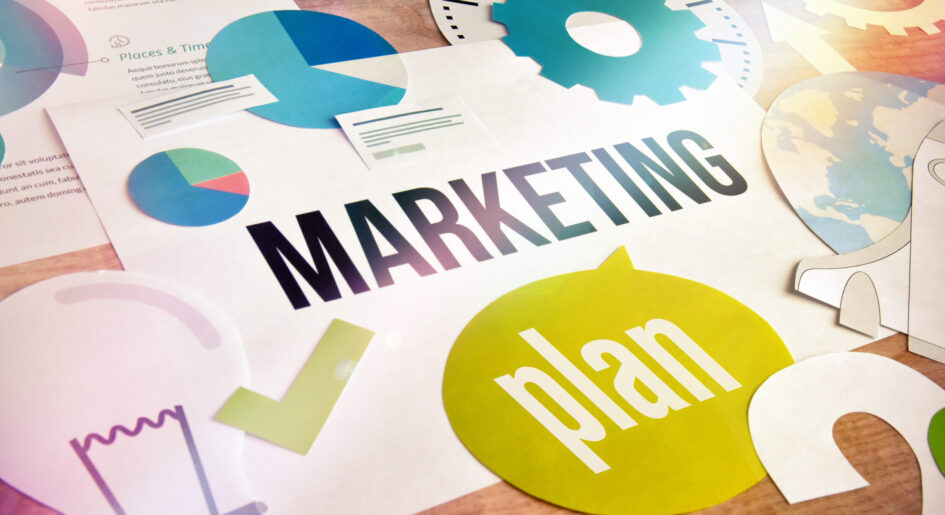 Banks and financial institutions have become more reliant on the digital way of doing business during the pandemic. Documents that would have been traditionally mailed out signed and returned are now being sent and completed digitally; and other communications, both promotional and account-related are being sent via email. While banks and credit unions may be sending more emails, so is everyone else. Your promotional email might not be enough. Direct mail marketing can help get your message to the recipient's front door when your email doesn't make it past the cluttered promotions tab. 
Who Should Your Bank Target With  Direct Mail? 
Being the least tech-savvy, it's no surprise direct mail marketing is one of the top ways to reach seniors. Inkit reported that direct mail is the top influencer for senior's decisions in choosing a Medicare plan. They have more free time, so they are more likely to sit down and read their promotional mailings. Though they may not be your target audience for 30-year fixed-rate mortgages, keep them apprised of CD rates, IRA's, Senior Checking, and Savings Account options (If they have another type of deposit account). Since many seniors may not be on your email newsletter list, send them direct mail communications to stay front and center. 
Millennials, the demographic that came of age during the millennium and with the widespread use of the internet, love getting direct mail. They enjoy it more than previous generations. A recent blog about the best direct mail practices for financial institutions discussed reports of millennials having a higher "open rate" of direct mail campaigns. Inkit suggests that because this demographic is more tech-savvy, they are more adept to ignoring digital ads. 
Participants in The State of Multichannel Marketing 2020, found that direct mail was the best way to reach executive or C-Suite level clients. (according to 75% of respondents) This demographic is traditionally one of the hardest to reach.  Their email inboxes fill up very quickly, and when one is very busy, it's easy to delete all emails that look like they're not important. Spam blockers can also make it difficult for your promotional communications to get to their inbox. They're also slightly more tricky to reach with digital ads, compared to personal banking customers.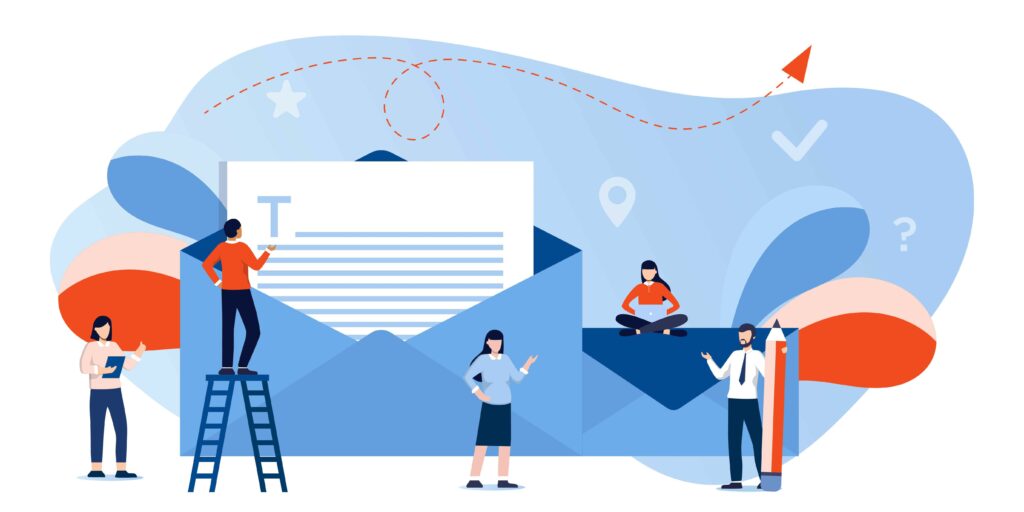 The Financial Brand suggests that moving is the number two reason that a customer switches to a new bank. Thus, New Mover Bank Marketing is an opportunity you shouldn't miss. Moving can be stressful, especially when relocating or buying a house.Finding a new bank may not be at the top of your to-do list. (especially if you can still access your old information online). This leaves new movers to find a new bank once they've settled into their new home and developed their routine. Target them with a postcard within 30 days of moving in. This postcard should provide details about your local office, something about the community, and list a current offer, such as CD rates, or special account perks. 
Since mailers for new movers is such a great idea, why not reverse engineer it? When your bank or credit union opens a new location, you should send something out to the residents in your community. Let them know who you are and what you can offer them.  If you're having a grand opening, send them an invitation and be sure to mention any prizes or freebies you will be offering. You're likely moving into a territory with competition from larger banks; Show your new neighbors the benefits of banking with a local bank instead of a megabank. (For more ideas about promoting your new branch, check out 10 Promotion Strategies For Your New Branch Opening.)
Don't limit your bank's direct mail marketing efforts to these groups, according to the PFL's The State of Multichannel Marketing 2020, 82% of marketers reported that direct mail is effective at reaching their target audience. 
What Should You Send to Banking Customers
If you're sending paper statements to your customers, you can easily improve this touchpoint at a low cost. Consider redesigning your paper statements to include onserts, images  on the statement itself that advertises other products and services offered by your financial institution. These can be personalized to the individual receiving the statement. For example, a person with just a checking account might see a mortgage ad on their checking account statement, but a customer with a checking account and a mortgage might see an ad for a savings account.  Including a brochure or a flyer with your statements are another way to enhance the bank statement experience.  
Postcards are the most frequently used type of direct mail. They are very cost-effective, and it's easy to get your message across. The customer does not need to open an envelope, your bank's branding is all over it, and the main communication is right on the front. When they go through their mail, they're reading it without even trying. While you obviously want to send official account communications in a secure envelope, postcards are great for special offers or touchpoints to let your customers know that you are still there for them. 
Although it was reported that postcards are the most preferred type of mailing, 88% of marketers suggested that dimensional mailings work best at representing their brand. Customers who have a Dunkin coffee shop near them, may be familiar with the coupon flyer shaped like a Dunkin coffee cup. This can be more difficult when your products aren't quite as tangible, and it can be more costly than a traditional postcard, but it would definitely get your customer's attention. Consider a mortgage ad shaped like a home, a car loan ad shaped like a car.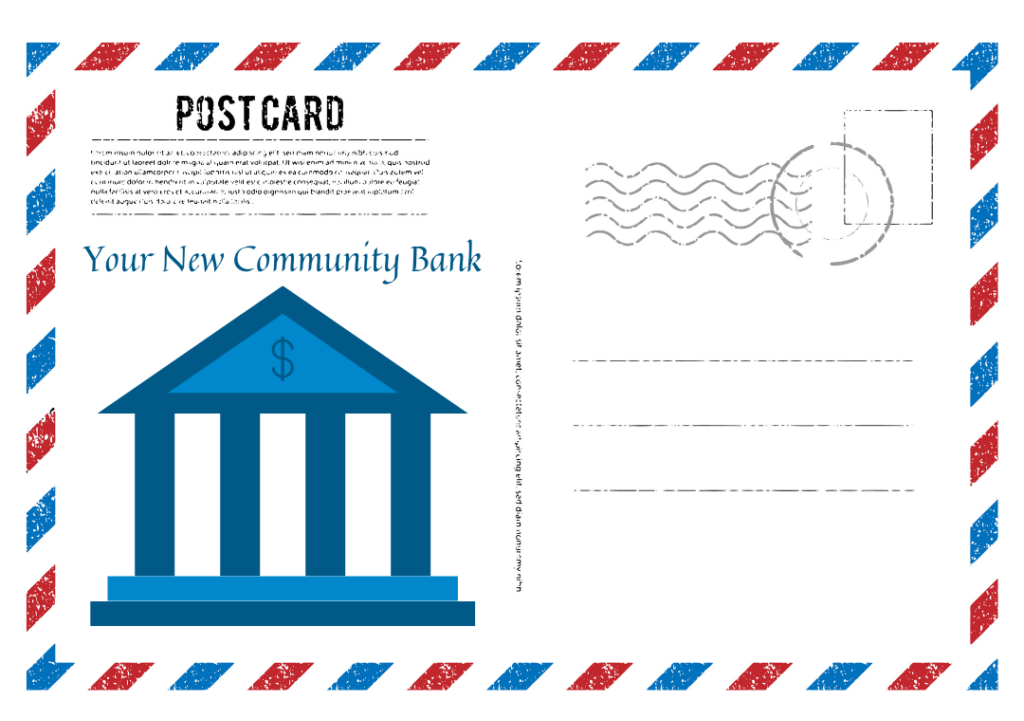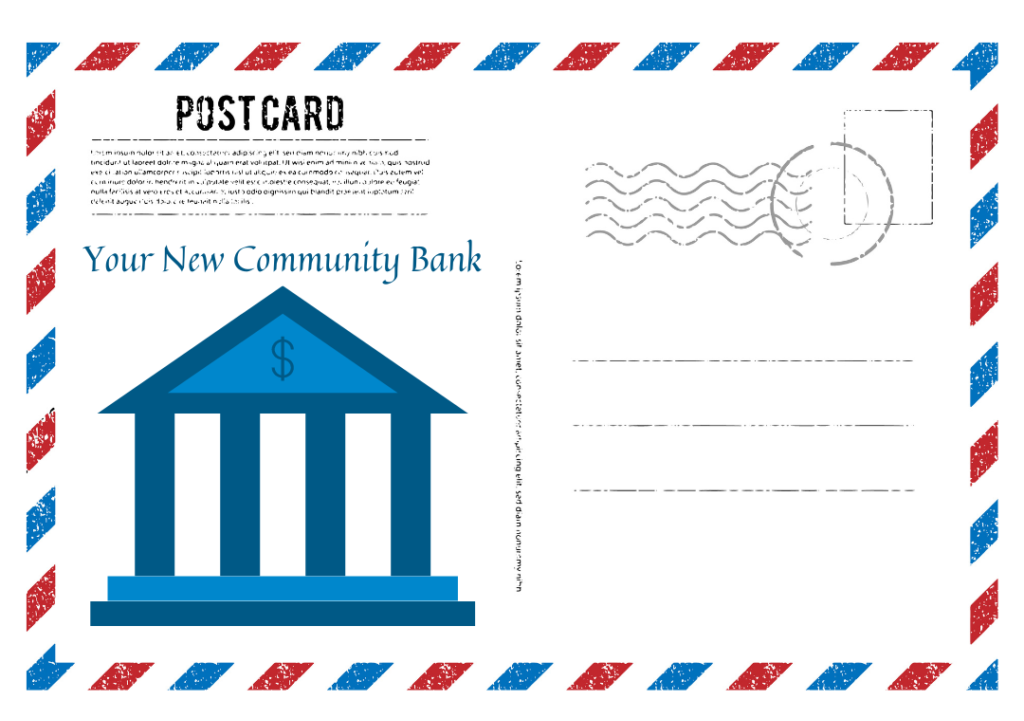 Add Direct Mail Marketing To Your Bank's 2022 Marketing Plan 
Direct mail marketing is a great amplifier for your bank's digital communications, just ask the 84% of marketers who took part in The State of Multichannel Marketing 2020. It's also a great way to reach those who don't have access to the internet or are surrounded by digital clutter. Request a consultation to find out how you can use bank statement marketing or direct mail marketing to improve your bank's marketing ROI in 2022.