2020 Conferences and Events For Bank Operations Professionals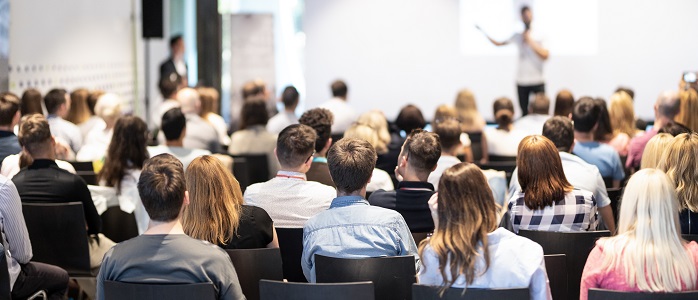 Gain new insights into current trends, risks, and disruptions in the financial industry by attending one or more conferences for bank operations professionals. From fintech to regulatory expectations and cyber threats, this year's conferences and other events are focused on helping your bank grow, adapt, and succeed in a rapidly changing banking environment. We start with events specifically for community banks and credit unions, then move on to conferences for the general banking industry.
For more resources and to connect with other bank operations professionals, join our group on LinkedIn.

Community Banks and Credit Unions
PACB Technology & Operations Conference
The Pennsylvania Association of Community Bankers presents the 2019 Technology Conference on March 12th at the Radisson Hotel Harrisburg. Created for IT Security Officers, Chief Information Officers, Incidence Response Managers, Risk Management Officers, and Technology Officers, the PACB Technology Conference will focus on information security, business continuity best practices, cybersecurity, vendor management, and more.
9th Annual Community Bankers Conference
Organized by S&P Global, the 2020 Community Bankers Conference takes place on April 14th-16th at the Four Seasons Resort and Club, Dallas at Las Colinas. The focus is on the future of community banks after a successful year of expansion in 2019. What will community banking look like in six years? How should community bank executives prioritize investments in the future? These are just some of the questions the conference will explore. Attendees will leave with concrete solutions and a vision of their institution's future.
Strategic Technology and Operations Conference
Geared toward community bank CEOs and other senior officials involved in strategic planning, the Tennessee Bankers Association's Strategic Technology and Operations Conference takes place on April 26-27 at the Embassy Suites Hotel and Conference Center in Murfreesboro. Learn from nationally-recognized speakers on financial institution technology and technology vendors themselves.
CUNA Operations & Member Experience Council and Technology Council Conference
The CUNA Councils are a professional development organization for credit union leaders. The 25th Annual CUNA Operations & Member Experience Council and Technology Council Conference will be held September 30th-October 3rd at Caesars Palance in Las Vegas, NV. Registration rates begin at $930 for early bird member registration. Conference topics will focus on innovation, industry trends, and connections across business areas.
2020 Bank Operations Institute
Facilitated by the Independent Bankers Association of Texas, the Bank Operations Institute (BOI) is a two-year banking program that kicks off on October 11th-16th in Dallas, TX, at the SW Graduate School of Banking at Southern Methodist University in Dallas. With a curriculum focused on the community banking industry, attendees will learn practical bank management and leadership strategies designed to support 21st Century success.
Conference for Community Bankers
The Conference for Community Bankers is the foremost event for community bank CEOs. Focusing on practical, effective solutions to the leading challenges faced by community bank leaders, the conference is a preeminent gathering ever year. As we celebrate our 40th anniversary, join us for key business insights and valuable networking opportunities all aimed at growing your bank's bottom line. The conference takes place February 9th-12th at the Omni Orlando Resort at Champions Gate in Orlando, FL.
All Financial Institutions
PA Bankers Association Women in Banking Conference
Join the PA Bankers Association on March 11th at the Hershey Lodge and Convention Center in Hershey, PA. The 2020 Women in Banking Conference features networking and professional development opportunities intended to strengthen women's participation in the banking industry, the association, and local communities.
Bank Innovation IGNITE 2020: Where Disruption Meets Banking
Bank Innovation Ignite unfolds March 2nd-3rd at the Grand Hyatt in Seattle. Join other financial services professionals to meet fintech professionals and discover external innovations in the industry. Learn about the future of banking, new developments in mobile payments, and more.
Bank Operations & Management Summit
Organized by the Alabama Bankers Association, this conference takes place on February 25th-26th at the Hyatt Regency in Birmingham. Choose from a variety of breakout sessions designed to improve every bank department.
Oregon Bankers Operations Conference
Part of the Northwest Bank Operations School, the Operations Conference takes place on March 19th, 2019 at the Wilsonville Holiday Inn in Wilsonville, OR. Learn from expert speakers about topics such as the U.S. bank regulatory system, the role of bank operations professionals, and bank financial statements. Register for just this session or the entire curriculum. Either way, you'll leave with new insight to bring to your bank operations job.
SCBA Bank Operations Conference and Trade Show
The South Carolina Bankers Association will hold its 2019 Bank Operations Conference and Trade Show on Tuesday, March 26th in Columbia, SC. Their website doesn't have many details posted yet but you can register online to save your place.
10th Annual Operational and Back Office Excellence in Banking Summit
Organized by Allan Lloyds Group, this conference brings industrial leaders in banking together so participants can discover the best operational strategies and practices. Learn about the latest industry disruptions so you can stay ahead of the curve in fintech developments. The 10th Annual Operational and Back Office Excellence in Banking Summit takes place in Vienna on April 9-11.
Compliance Conference
On May 22-23, The New Hampshire Bankers Association, in partnership with the Vermont Bankers Association, will host their annual Compliance Conference in Concord, NH. More details coming soon.
2020 Technology, Compliance, & Risk Management Forum
The New York Bankers Association presents a forum to address cyber threats and other current challenges. Discuss regulatory expectations and best practices with your peers in IT, compliance, risk management, information security, and related positions. You'll also meet vendors representing the latest technology, compliance, and risk management products and services. The forum will take place on May 18th-20th at the Hilton River Pearl in River Pearl, NY.
BAI Beacon: Lighting the Way Forward
The Bank Administration Institute Beacon is a Financial Services Conference that turns industry goals and challenges into actionable steps personalized for your financial institution and team. Featuring thought leaders, current research, and fintech solutions, you're sure to leave the conference with new connections, ideas, and next steps. The 2019 BAI Beacon takes place October 8-10 in Boston, MA.
Jack Henry Banking Education Conference and TechConnect Showcase
The 2020 Jack Henry Annual Conference (JAC) takes place on October 12th through 15th in Indianapolis, IN. Venue to be announced. JAC features dynamic and interactive educational and training sessions, roundtable discussions, and product demonstrations. Earn professional education credits, network with your fellow operations professionals, and discover new technology solutions for your financial institution. Registration opens on June 1st.


PrintMail helps 350+ bank operations and technology professionals across the country with cutting-edge statement printing and mailing solutions and innovative estatement services. Our extensive experience with core banking systems means we can securely print and mail your customer statements from virtually any core. Contact us today to learn more and find out how much your financial institution could save on statement processing.