Postmaster General DeJoy Speaks to INg on Innovation, Improvements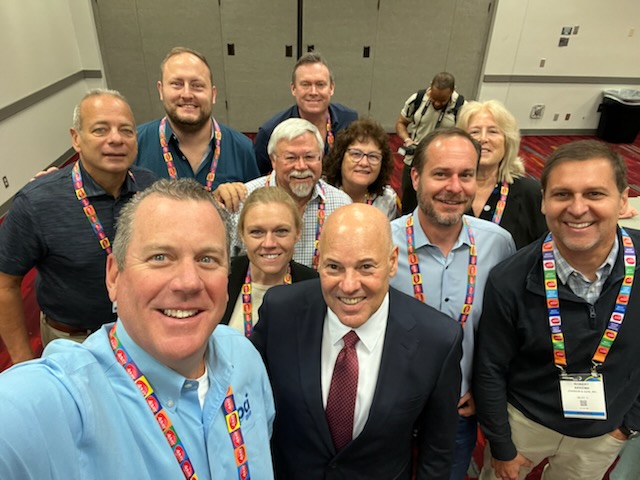 Recently, the INg Board of Trustees – including PrintMail Vice President of Strategic Partnerships Gretchen Renaud – met with United States Postmaster General Louis DeJoy. The meeting took place following his keynote presentation at the Printing United tradeshow.
DeJoy discussed the challenges he faced coming into his role in July 2020, specifically mentioning his "Delivering for America" plan. He reiterated his vision to re-align the postal network, taking out costs and giving regional processing facilities the capability of reaching millions of people in one or two days while delivering both mail and packages six days a week. He also described his mission is to make USPS the nation's premier delivery service, hoping to reverse poor strategies of the previous management teams.
Following the meeting, INg President Fred Van Alstyne said DeJoy is not only a master of logistics but possesses a solid understanding of mail and the process of moving it around the U.S.
In her reflection on the meeting's key takeaways, Gretchen Renaud noted that "PrintMail Solutions is prepared to educate customers on any future postal changes or adjustments to ensure we are partnering with the USPS for long-term success and viability. It is clear to me that Mr. DeJoy is making decisions and running the USPS like the business that it is to accomplish these directives."
Renaud also added, "it is certainly in the best interest of bureaus and their customers to have a stable USPS that delivers mail accurately and timely and can be relied on in the future."
---
About PrintMail Solutions
For more than two decades, PrintMail Solutions has helped hundreds of financial institutions reduce costs with efficient and well-designed paper statement printing and mailing. Since 2007, PrintMail customers have realized additional cost savings with PrintMail's eStatement Services. We seamlessly interface with your core platform, imaging software, and online banking provider. Whether your customers/members choose physical or electronic statement delivery, our commitment to quality, accuracy, and security is the same.
About INg
The Imaging Network Group, or INg, is an established networking association created exclusively for the print and electronic service provider industry. INg's member companies are made up of some of the most visible and successful mid-sized, high-volume print and electronic service providers and direct mail companies. The association offers members the opportunity to interface with top industry peers across the nation.